Program Overview
Humber's Funeral Pre-Planner certificate program prepares you to work with people who wish to plan their funeral in advance. Our program is the only Funeral Pre-Planner certificate in Ontario recognized by the Bereavement Authority of Ontario (BAO). The curriculum has been developed according to the BAO's professional competencies for this personal license.
In this program, you will learn all aspects of the pre-need side of the funeral service industry, everything from gaining skills working with families to learning about financial investment options.
Note: Due to provincial licensing requirements, this program is available only to domestic students.
This certificate of achievement is fully online and consists of two courses: Jurisprudence for Funeral Pre-Planners and Ethical Approach to Funeral Pre-Planning.
POST-ADMISSION REQUIREMENTS
Most employers expect their staff to possess a valid Class G driver's license.  Additionally, The Bereavement Authority of Ontario will require all students to provide a police record check at the time of licensing. 
The Humber Advantage
Your Career
Take your passion for caring for people into a career in funeral services. If you are a compassionate and tolerant person with a strong desire to help people, you will have a fulfilling career in this field. Graduates of this program can work as a funeral pre-planner in the field of funeral service.
The Right Fit
You care deeply for others and always have. You genuinely want to help and your sensitive nature, ability to communicate, relate and bond with people makes you the perfect person to help. These unique qualities could also make you a successful funeral pre-planner.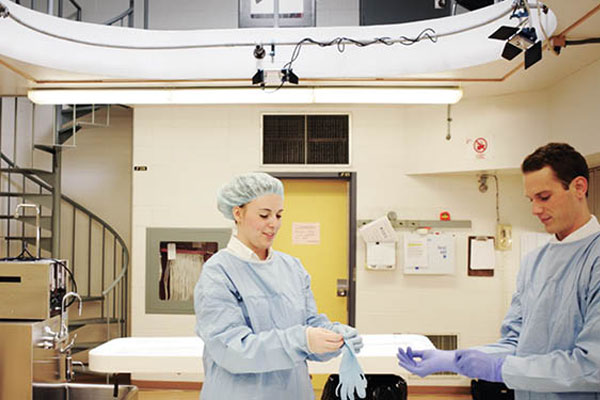 We Know What it Takes
Humber is a leading-edge facility in every respect. Teachers are licensed funeral directors with specializations in different capacities. They periodically work in the field and regularly attend professional association meetings ensuring material is current, relevant and covers all angles.
NOTE: FPPC 110 (Old course code) is equivalent to FPPC 120 (New course code) and FPPC 111 (Old course code) is equivalent to FPPC 121 (New course code)
Curriculum
Quick-Look Availability Scheduler
Use the Quick-Look Availability Scheduler to see available courses in a calendar view and plan towards achieving your certificate.
Loading...
Course Name

2023/2024 Academic Year
2024/2025 Academic Year
Feb
Mar
Apr
May
Jun
Jul
Aug
Sep
Oct
Nov
Dec
Jan
Feb
Mar
Apr
FPPC 120: Ethical Approach to Pre-Planning
FPPC 121: Jurisprudence for Funeral Pre-Planners
Compulsory Courses
FPPC 120
Ethical Approach to Pre-Planning
In the role of the pre-planner, an understanding of grief, service, disposition options, funding options and aftercare is critical. However, ethical business practices are paramount. This course uses the lens of ethics to investigate each of these topics, embedding the importance of ethical business practices into the role of the pre-planner.
FPPC 121
Jurisprudence for Funeral Pre-Planners
This course looks at the parts of the Funeral, Burial and Cremation Services legislation that pertains to the function of the funeral pre-planner.